Description
Picnic Blanket ( Cotton / Polyester) with Carry Bag
*Free Delivery

Spacious and lightweight, this Blanket is perfect for a good day out, hiking and even camping. Measuring with 3m x 3m, it is sufficient for a group of 6 – 8 people to sit on and enjoy plenty of nice wine and cheese crackers on a nice day.
Made of quality cotton and polyester surface, this Blanket is comfortable to sit on (even lay on to enjoy the sun). Under is the waterproof PEVA that prevent wetness on damp surface. What's even better is it comes with a carry strap and bag that just make it so convenient to bring out anytime.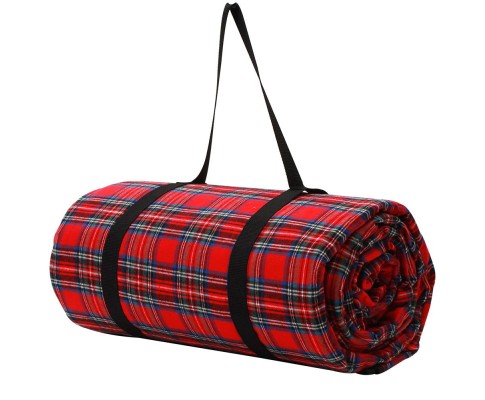 Features
* Light weight and multifunctional
* Comfortable surface
* Waterproof backing
* Comes with carry strap and carry bag
* Hand and machine washable
Specifications
* Size: 3m x 3m
* Surface material: Cotton and Polyester
* Backing material: PEVA
* Colour: Red
Package Content
1 x Picnic Blanket
1 x Carry Strap
1 x Carry Bag
*FREE DELIVERY TO MOST OF AUSTRALIA
PLEASE NOTE:
UNFORTUNATELY
WE CANNOT DELIVER TO THE FOLLOWING POSTCODES!
SA 5701 , WA 6055, WA   6740, WA   6743, WA   6215 – 6699, WA  6700 – 6799,
TAS  7151,  NT 0800 – 0999, NSW  2641
QLD
4450 – 4499, 4680, 4700 – 4805, 9920 – 9959

4806 – 4899, 4900 – 4999, 9960 – 9999