Description
20000mAh 1000cca Lithium Automotive Battery Jumpstarter Pack M8195A ALTRONICS
Top of the range – Huge 20000mAH 1000cca Capacity!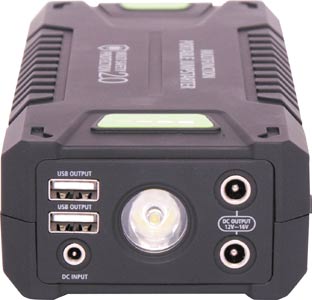 Get up and running fast! This unit jump starts cars, boats, 4WDs and tractors.
This lithium battery pack is suitable for jump starting 12V battery equipped vehicles.
It is housed in a very compact case – far smaller than traditional jump starters sold for many years by automotive shops.
The 20000mAh rating provides up to 1000A peak output when cranking.
It can be recharged by the car itself – once its running of course!
Two USB ports provide charging for your phone or tablet.
It also has a super bright 1W LED torch in-built.
Peak current draw from DC output 15A (not continuous). Size: 178L x 84W x 45Dmm.
PLEASE Note: 
Does NOT include 240V mains charger!
Click here > for optional 240 Volt > 15 volt Charger
Features
Compact design with 20000mAh internal battery pack
5 hour recharge
Includes car charger, USB multi-adaptor lead & carry case
Dual USB charging outputs
1W LED torch
Includes two DC outputs with cigarette lighter socket lead for powering car fridge, lighting, and other car accessories.
Starts typical 4, 6 & 8 cylinder engines (inc diesels).
Package Contents:
1 x Car jump starter
1 x Car charger
1 x User manual
1 x Battery smart clamps
1 x USB charging cable
Specifications
Capacity: 74Wh/20000mAh, 3.7V
Charge time (fully charged): 6-7Hours
Built -in Battery: High rate discharge Lithium Polymer Batteries
Charger Required 15Vdc Min 1 amp
Output: USB 5V 1A, DC 12-16V 15A max
Torch: Ultra bright LED
Peak current: 1000A
*Specifications are subject to change without notice.